From Compact Modern Designs To Traditional Cast Iron, Our Selection Of Pellet Stoves Can't Be Beat
Ah, a real wood fire — tough to beat. But if chopping, stacking, hauling, and storing all that wood isn't for you, you can still enjoy the warmth and affordability of a renewable resource like wood. How? With a pellet stove.
Pellet stoves from Napoleon, Regency, Timberwolf, and Harman make use of compacted wood waste pellets to fuel a roaring and beautiful fire that puts out heat like a traditional wood stove. The biggest difference? You won't have to find a place to stack all that wood or head outside in the cold to get it when you want to enjoy a fire. Instead, if it's not already loaded, you'll simply load the pellet stove with pellets (which are available in bags of all sizes) and let automatic ignition take it from there.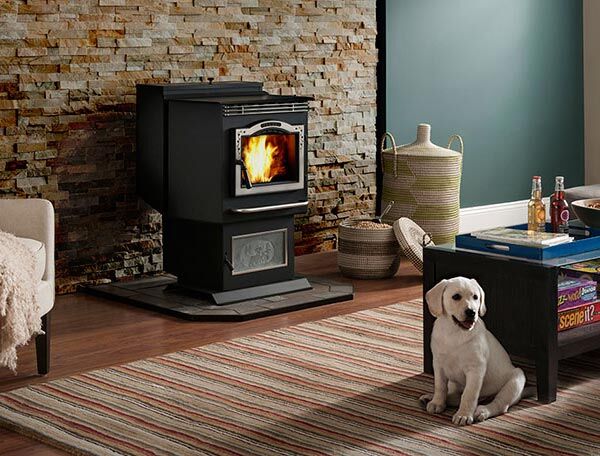 Most pellet stoves also include a self-feeding hopper, which works to control and maintain a steady temperature, without requiring you to get up out of that recliner. At the end of the day, you shouldn't have to put in more work just to relax.
Some of the features on our pellet stoves include the following:
automatic ignition

exchange tubes, which radiate heat into the room, even after the stove has been turned off

blowers which evenly distribute heat and help you maintain a comfortable living space

thermostatic control/remote control (some stoves are able to regulate room temperature to within one degree)

built-in cleaning devices to maintain a clean and efficient stove, without requiring you to lift a finger

airwash glass cleaning system to keep your view of the fire crystal clear

FAILSAFE system

ash pan doors and ash pan for easier cleaning

EASY touch controls

flame-reflective mirrored glass

multi-directional air flow
But no matter which pellet stove you choose, you can burn with confidence, knowing they are all EPA -certified for a cleaner, environmentally friendly burn. They're also completely customizable, so whether your home design style falls into the traditional or modern category, a charming and warming pellet stove can perfectly complement your space.
Your Dream Pellet Stove Is Right Here At The Stove Store
Ready to fall in love with your next stove? Whether you're shopping for a legged model, a tall, modern European style stove, or a pedestal stove with a decorative ash pan door, stop by The Stove Store at 804 E Pulaski Highway — we're confident you'll find just what you're looking for right here.
Need assistance? Our courteous and knowledgeable experts are always standing by. Give us a call or stop in and see us today!
If you like the idea of using pellets for fuel but you already have a fireplace, talk to us about getting a pellet insert for improved heat and efficiency.