For The Largest Selection Of High-Quality, Dependable & Stylish Fireplaces, Stoves & Inserts, Head To The Stove Store
Upgrading your hearth or adding a new heating appliance to your home? There's a lot to consider, like fuel type and appliance type — but it doesn't have to be overwhelming. The team here at The Stove Store is committed to making shopping for a new appliance stress-free and enjoyable.
Our showroom is clean and filled with the industry's best hearth appliances and best hearth professionals. We know these appliances in and out, and can answer any questions you may have as you're shopping. From concerns about sizing and installation to performance, maintenance, and other questions and considerations, The Stove Store's experienced and knowledgeable team can help.
In the meantime, here's a little bit of information to help as you get started on your search for the perfect hearth appliance for your home.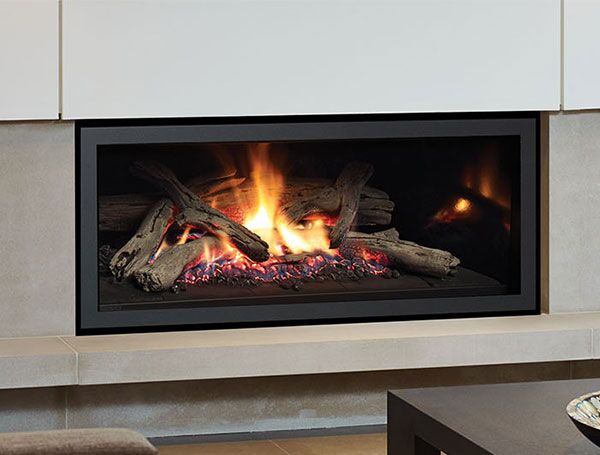 Regency U900E Gas Fireplace
Napoleon Oakdale Wood Fireplace Insert
Fuel Considerations — Which Is Right For Me?
When it comes to fuel types, there is no one size fits all — some fuels are simply better for some homeowners than others. Here are some of the key benefits to each fuel type to help you determine which would be best for your home:
Gas — Gas is the most convenient fuel because it doesn't require you to build, stoke, or feed the fire. Once a gas line is hooked up (propane or natural gas), your appliance will simply turn on with the touch of a button — and when you're ready to head out or hit the sack, you simply turn the fire off. Simple. Gas is also the cleanest burning and lowest maintenance fuel, so if emissions, cleanup, and effort are your biggest concerns, gas may be perfect for you.
Wood — Wood is natural favorite for homeowners who love the experience of a fire — from the chopping and stacking of wood to the building and stoking of the fire itself. With wood, you're using a renewable resource that's affordable and plentiful, and you're getting high heat and a flame pattern and fire that just doesn't get any more realistic — because it's the real thing!
Pellet — Pellets are compacted wood waste designed to burn more efficiently and produce lower emissions than wood, while still putting out tons of heat and producing a big, beautiful fire. If you don't have the space to store wood, you're looking for lower emissions and lower maintenance, and you love the idea of making use of a resource that would otherwise go to waste, pellets are perfect for you.
Appliance Considerations — Which Is Right For Me?
Ready To Start Shopping? Head To The Stove Store!
By no means is this an exhaustive report on fuel types and appliance types and their benefits, but if you'd like to learn more or discuss your options with an experienced and friendly professional, head to our stove shop at 804 East Pulaski Highway in Elkton.
We're located just 30 minutes outside of Wilmington, and our team is ready to help make your decision easy and stress-free. We'll even fire up an appliance that you're considering so you can see it in action. What are you waiting for? Head to The Stove Store today and find your dream fireplace, stove, insert, or gas log set!
Ar The Stove Store, you'll find all the fireplace tools and accessories you've been looking for to make your fireside experience easier and more enjoyable.